Fear. Confusion. Insecurity. A lifetime of these patterns can rob us of the love and intimacy God longs for us to experience in safe relationships. And breaking through—doing relationships differently—can often seem as elusive as a moving target. We may stay in unhealthy relationships for a variety of reasons. Any of these sound familiar?
- Fear of being alone—"I'd rather be with him/her than nobody at all."
- Loss of identity/purpose—"I won't know who I am anymore."
- Comfort—"It's all I've ever known."
- Resistance to change—"I'm pretty set in my patterns. I was born this way."
- Finances—"I can't survive on my own."
- Minimizing the problem—"Every relationship has some drama. Nobody's perfect."
- Desire to fix/control—"He/she can't survive without me."
- Living as a victim—"Since my family did this to me, they're responsible for fixing."
- Faulty religious beliefs—"God commands me to love and give unselfishly, even when I lose myself in the process."


- Hopelessness—"It's too late for me. I'm stuck."


Each of these statements has a common denominator: a misunderstanding of what true love is. But life can be different. It is possible to break the pattern of enmeshment and break through to freedom—to that place where we are able to give and receive true love.

Our goal is not to find some kind of relational Nirvana where there are no problems, but to grow wise enough and strong enough that we aren't compelled to control others or let them control us. To break free so that we can love with grace and truth as Jesus did.
The love Jesus offered was always open-handed and clear-eyed; it was never manipulative or deceptive. Jesus didn't lie to get people to do what he wanted them to do; he spoke the truth and offered a relationship based on trust and respect. Then he let people make their own choices. When they decided to follow him, he was pleased; when they walked away he undoubtedly had tears in his eyes.
Jesus told his followers, "If you hold to my teaching, you are really my disciples. Then you will know the truth, and the truth will set you free" (John 8:31-32). When you discover how to live in love, the truth will set you free.
Free to enjoy true, God-honoring love built on mutual understanding and intimacy. But first you'll have to expose your false perceptions of love to the light. When you do, everything in your world will be challenged to the core.
Take a few moments to see if you find yourself in any of these roles:
Are you a fixer? Fixers feel better about themselves when they are handling someone else's problems. They thrive on feeling indispensible.

Breaking Free: Fixers must learn to respect people enough to speak the truth and let them make their own choices—even if those choices are self-defeating.

Are you a performer? Performers are very successful, and as a result, earn a great deal of respect and attention. The applause may temporarily feel good, but they live in continual, crippling fear of failure.

Breaking Free: Performers have to learn how to love, give and serve with no strings attached. They need to ground their identity, not in how others see them, but in the truth of who they are in Christ.

Are you an avoider? Avoiders buy peace at the price of keeping authentic relationships at arm's length. They don't let anyone get beneath the surface to see the hurt, anger and longing inside.

Breaking Free: Avoiders have to learn to do the hardest thing they've ever done: Trust one person enough to take a single step toward meaningful connection.

Are you a doormat? Doormats have grown accustomed to an extreme helplessness. They want others to rescue them, control them, and tell them what to do. They gravitate toward powerful, even abusive, people.

Breaking Free: Doormats need great courage to break out of this mind-set, define their own desires, and find their own identity.

Are you an adrenaline junkie? Adrenaline junkies are all about the thrill, the excitement. Unfortunately, they're also the first ones to take foolish risks—all because they're trying to fill an emptiness in their hearts.

Breaking Free: Adrenaline junkies have to set aside their counterfeit coping mechanisms and begin to pursue true love so that affection, trust and genuine connection fill their hearts.

In their book Love is a Choice, Robert Hemfelt and Frank Minirth point out, "With [God's] love encompassing you, you need no longer tie yourself in the codependent knots of an unhealthy relationship, grasping, enmeshing, suffocating, and being suffocated. 'The truth shall make you free,' said Jesus in John 8:32. Free! Free to enjoy, free to choose. And one of those choices is love."
The language of true love may at first be foreign to our ears, but it satisfies the hunger of our hearts. When we choose to first of all live in God's love—to root and ground our hearts in the reality of the Cross—insecurity, doubt and fear begin to lose their hold.

Why not start today? You can experience a breakthrough in your relationships and live in true love, not enmeshment.
---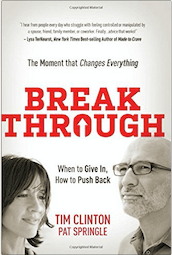 This is an excerpt from Dr. Tim and Patrick Springle's book, Break Through, When to Give In, How to Push Back