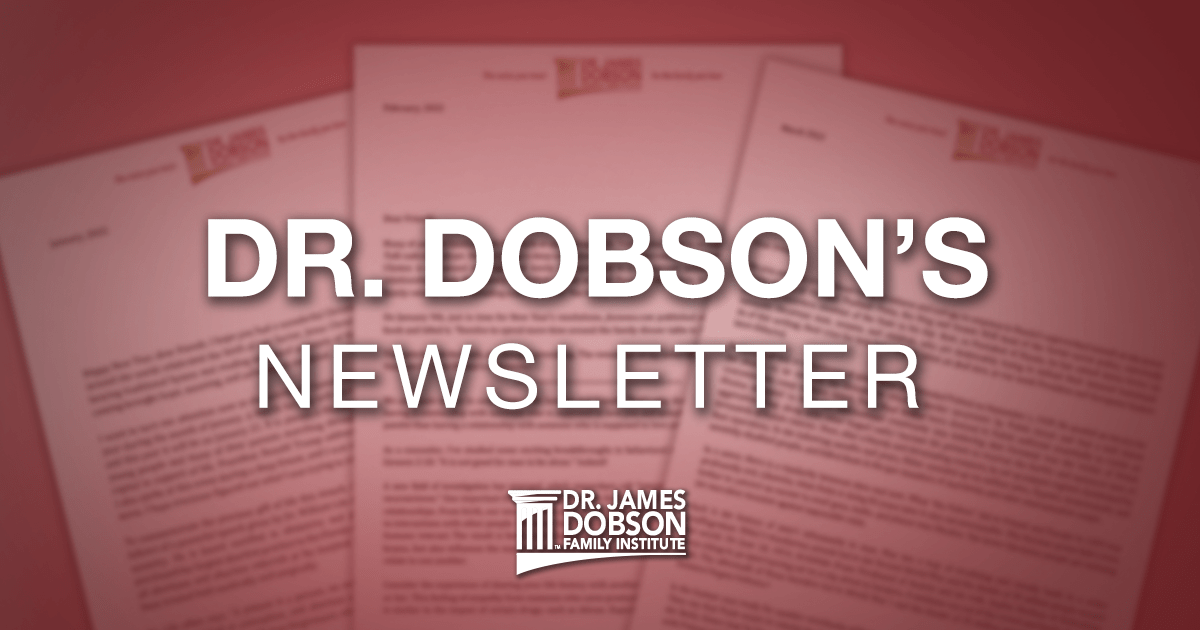 Dear Friends,
I am Jenanne Jenkins, one of the vice presidents of Family Talk. Dr. Dobson asked me to write you on his behalf this month while he is scurrying around the country doing interesting things. One of these occurred in Washington, D.C., on June 10, when he was honored with the Winston Churchill Lifetime Achievement award, given by the Faith and Freedom Coalition. The primary speaker that night was Vice President Mike Pence, with whom Dr. Dobson has enjoyed a friendship for more than 20 years. It was a very special evening.
If you have ever been to Family Talk, you know Dr. Dobson is an amateur historian who admires the memory of Mr. Churchill enormously for helping lead the Allies to victory in World War II. Now, Dr. Dobson's Lifetime Achievement Award hangs beside the portrait of the late Prime Minister at the ministry.
After the event in Washington, Dr. Dobson packed up and went fishing. He had a very restful one-week vacation beside the Iliamna River in Alaska, along with eight friends. He came back invigorated and ready to take up his duties again. He is tireless in his defense of family values.
You may be aware that Dr. Dobson recently completed his 40th year in radio ministry, beginning on March 26, 1977, when he left academia. During these four decades, he has been one of the most influential and consistent voices for righteousness in America. Dr. Dobson has defended the preservation of human life, the sanctity of marriage, and religious liberty as our culture continues to spiral into moral decline. He has worked with five presidents, beginning with Jimmy Carter in 1980 and his White House conferences on the topic of strengthening families. That service was followed by five years with Ronald Reagan as a front-line soldier in the culture war. It has been a labor of love to preserve a value system we cannot afford to lose. Now he is again being recruited for service on a high level of government within the current administration.
There have been many personal assaults on Dr. Dobson's character and deeply held beliefs during his involvement in the ongoing battle against political correctness. It has been brutal at times. We want to thank those of you who have stood with him during these struggles. You have been to him what Aaron and Hur were to Moses, who lifted up his arms when he became weary.
Wherever Dr. Dobson goes today, people approach him to express appreciation for his contribution to their families. The phrase he hears more than any other is, "You've helped to raise my kids." That is one of his legacies that has spanned three generations.
Once again, I write this letter to express my thanks to those of you who have given sacrificially to the work which Dr. Dobson has been called. Your gifts have been invested very carefully and wisely in support of righteous causes. Dr. Dobson has never accepted a dime of salary in 40 years, and he considers every gift to the ministry to be an example of what he calls "blood money." Let me share with you a true story that goes along with this.
Many years ago, Dr. Dobson received a letter from a woman who told him that her family was aware of his need for contributions. Unfortunately, she and he husband had financial difficulties of their own. They and their children held a family conference and discussed how they could help Dr. Dobson's ministry. Each member agreed that he or she would give up boxed cereal for a month to save a few dollars for a contribution. The mother enclosed a check for $17.00 that came from the heart of their family.
Dr. Dobson took that letter and distributed it to his entire staff, expressing his appreciation and emphasizing just how important it was not to waste money for anything. Not a single dollar! He asked that everyone remember the sacrifice of that family so that our ministry could continue its work.
That is the same attitude Family Talk operates by today. Every contribution is someone's sacrifice. It is, indeed, blood money.
Blessings to you all. Please remember to pray for Dr. Dobson and our staff. God is at work at Family Talk, and we extend our best wishes to you all.
Sincerely,

Jenanne Jenkins
Vice President of Stewardship and Donor Relations
---
This letter may be reproduced without change and in its entirety for non-commercial and non-political purposes without prior permission from Family Talk. Copyright, 2017 Family Talk. All Rights Reserved. International Copyright Secured. Printed in the U.S.A.