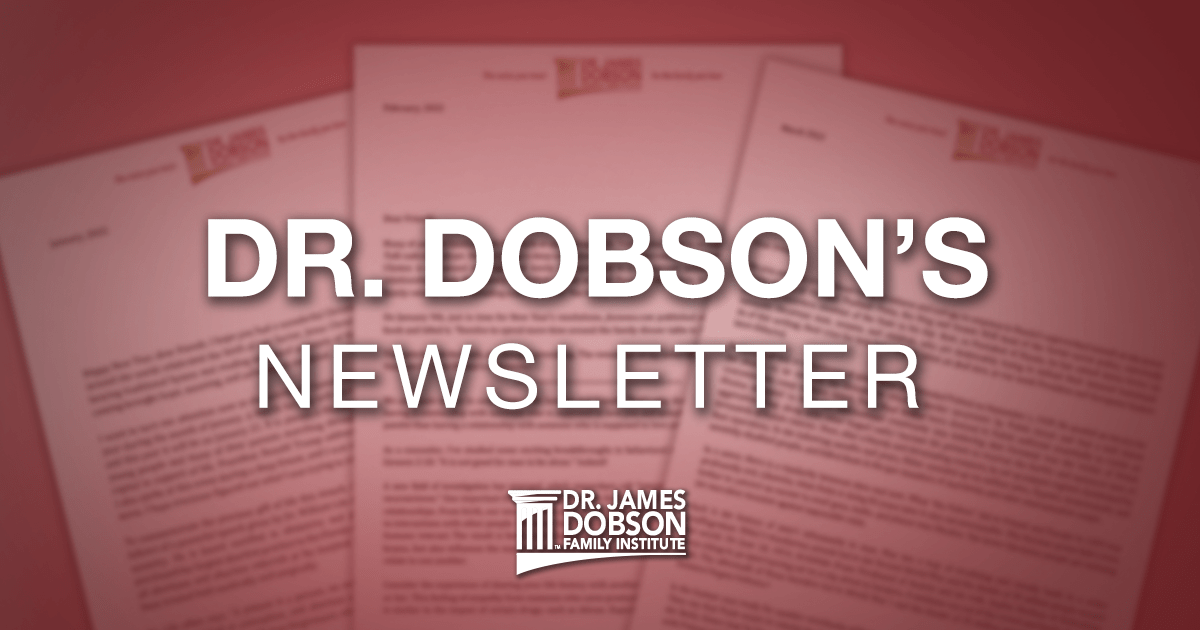 Dear Friends,
It is with excitement that I announce a significant expansion of the ministry known as Family Talk. Let me tell you why our board of directors has taken this dramatic step.
As you know, the institution of the family is under assault throughout the culture. Infidelity, sexual addiction, and divorce are at an all time high, both in the church and in the general population. This breakdown in marital commitments has led to an alarming increase in children suffering from depression, and teen suicide has become a national crisis. In short, the traditional family, created and purposed by God, is on the verge of destruction. If secularization and immorality continue to increase, their effect on the family and our culture will never be reversed. I firmly believe that America as we have known it cannot survive the destruction of the family.
In response to this crisis, I've asked my chief operating officer, Dennis Call, to share with you what the expansion of our ministry will look like.
The Dr. James Dobson Family Institute
The mission of the Dr. James Dobson Family Institute is to inspire, support, equip, and lead couples and families to stand together. We hope to introduce as many people as possible to the gospel of Jesus Christ, while preserving the institution of the family and promoting biblical values within the culture. It addition, it is our objective to preserve the 40 year legacy of our founder.
The Institute will be comprised of four ministries as follows:
Family Talk
The first ministry will continue as it has essentially existed for the past eight years, although it is being expanded and improved. It consists of daily radio, Saturday broadcasts, mobile apps, social media, weekly marriage and parenting blogs, a monthly newsletter, and our website. Dr. Dobson has prepared and aired more than 8,000 programs since 1977, and virtually all of them are owned by the Family Talk ministry.
Dobson Library
The second ministry is still in development, and is titled the Dobson Library. Four decades of work have been condensed into questions and answers that can be accessed by parents, teachers, ministers and others by use of smartphones and computers. Comprehensive search engines also provide locations for videos, articles, and other resource materials to create the user's own personal library. Over time, the Dobson Library will become a repository for all audio, digital, and published resources produced by the ministries of the Dr. James Dobson Family Institute.
Education Center
George Barna recently visited Family Talk in Colorado Springs to record broadcasts with Dr. Dobson. Barna's report on the state of our nation as it relates to a biblical worldview was informative and disappointing. According to a nationwide survey conducted by the American Culture and Faith Institute, only 31 percent of born again Christians hold a biblical worldview. When that percentage is considered by age group, the numbers are even more shocking. The Dr. James Dobson Family Institute's Education Center is designed to inform, educate, and equip families with resources through comprehensive partnerships. Some of these include The Dr. James C. Dobson Center for Child Development, Marriage, and Family Studies at Liberty University, the American Association of Christian Counselors (AACC), and biblical worldview seminars in communities around the country.
Family & Public Policy Center
There should be greater concern for our nation and the institution of the family than ever before. With each passing day, it seems another tenet of biblical and traditional morality is in greater jeopardy. When Dr. Dobson began his broadcast ministry forty years ago, Judeo-Christian values were under attack, but the assault has now become much more heated and vicious. That is why the Family and Public Policy Center will inform, educate, and lead families to address the impact that local, state, and federal legislation or policies will have on couples and families. The Family and Public Policy Center is designed to accomplish this through articles, seminars, and larger ministry events. The information provided is intended to empower Christians to lead in their communities.
These four ministries are exciting expansions beyond Family Talk, each designed to address specific areas of concern within the culture as they relate to the biblical definition of marriage, parenting, and the family.
Dennis Call, COO
---
I continue to be humbled by the abundant blessings of the Lord in giving us a clear vision of the challenges and providing the means to meet them head on. As I consider what lies ahead, I am reminded of what the Greek historian, Thucydides, wrote as the Athenian army prepared to do battle with the warriors of Sparta during the Peloponnesian War. He noted, "The bravest are surely those who have the clearest vision of what is before them, glory and danger alike, and yet notwithstanding, go out to meet it." In light of what appears to be overwhelming odds against success in our efforts to preserve the institution of the family, it is necessary to focus instead on the grace and immense power of our Lord and the encouragement we receive through His Holy Word. One of these statements of hope is given by the Apostle Paul in Galatians 6:9, "Let us not grow weary of doing good, for in due season we will reap, if we do not give up."

We are in this together. A generous supporter has agreed to match your gift of any amount, dollar-for-dollar, allowing us to reach and equip twice as many families during this new ministry initiative. We are doing a good work, and we will continue to take on the challenges that lie ahead. I pray you will join us as we wrap up 2017 and launch the new Dr. James Dobson Family Institute.

Your friend in Christ,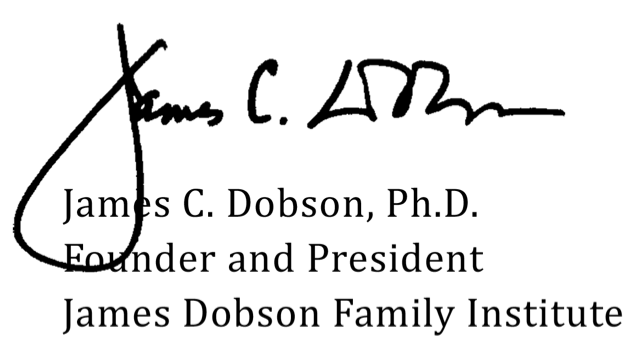 P.S. We are so pleased to have received the following endorsements for the Dr. James Dobson Family Institute, to date. These great friends have been gracious to us, and we deeply appreciate their kindnesses.
They include Dr. Robert Jeffress, senior pastor, First Baptist Church, Dallas, Texas; Dr. Michael Youssef, pastor, Church of the Apostles, Atlanta, Georgia; Eric Metaxas, author, speaker, and radio host; Greg Laurie, pastor, Harvest Christian Fellowship, Riverside, California; Rev. Franklin Graham, evangelist, president and CEO of Samaritan's Purse and the Billy Graham Evangelistic Association.

---
This letter may be reproduced without change and in its entirety for non-commercial and non-political purposes without prior permission from Family Talk. Copyright, 2017 Family Talk. All Rights Reserved. International Copyright Secured. Printed in the U.S.A.