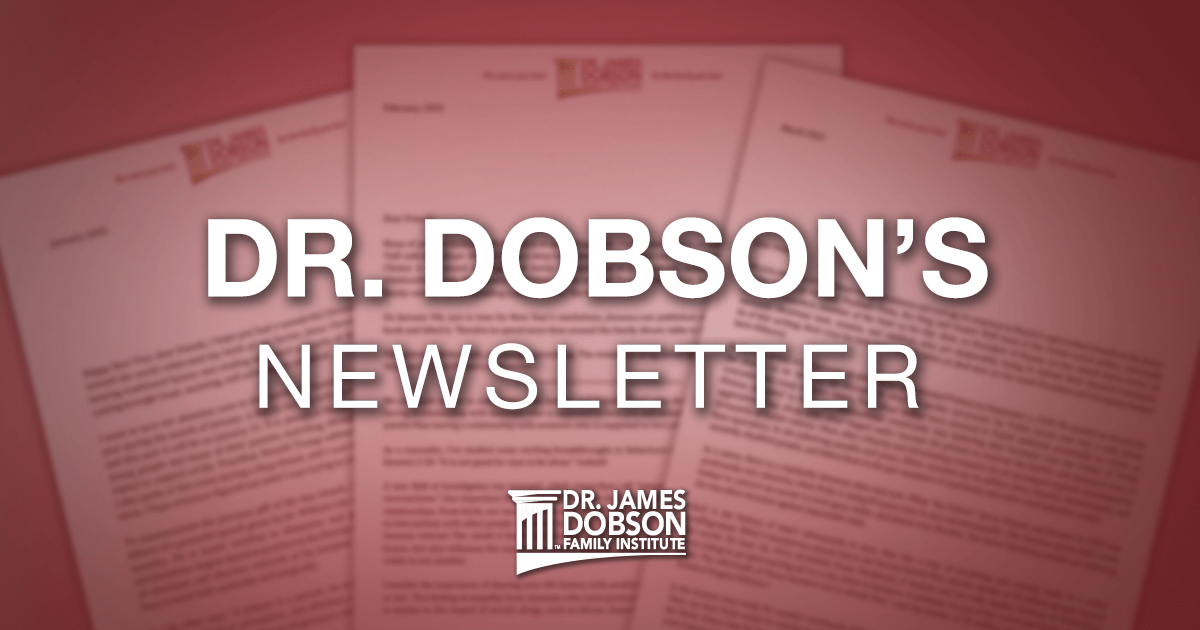 This month's letter is coming to you from the Board of Directors of Dr. James Dobson's Family Talk. As the ministry celebrates its second anniversary, we want to share with you our bright vision for the future, as well as the challenges that are a part of this time in history.
Those of us on the Board, and so many of you, have known and loved Dr. Dobson for decades. We feel as though he is a part of our family as he has helped raise our children and strengthen our marriages and relationships over the years. You've seen his work and heard his voice as a trusted national leader for as long as many of us can remember. His credentials are unparalleled – he received his Ph.D. in child development from the University of Southern California, taught on the medical staff at Childrens Hospital of Los Angeles, and authored more than 35 bestselling books. Dr. Dobson has served his country as an advisor to three U.S. Presidents, was appointed to numerous commissions, and in the midst of all of this, he founded Focus on the Family and shepherded it to become one of the most successful Christian ministries of the last several decades. Through the Focus broadcasts, he has touched us all in so many positive ways. He has produced thousands of radio programs and has been the featured guest and family authority on hundreds of television appearances and at multiple speaking engagements. Literally millions of lives have been positively affected through the efforts of this good man. In addition, he has often been "the voice in the wilderness" passionately addressing the tough social issues of our time.
Just over two years ago, Dr. Dobson resigned from Focus and passed the leadership of that ministry to others. But Dr. Dobson is far from finished with his service to our Lord. We are grateful that Dr. Dobson wants to continue his work to strengthen families and our nation, and his message has never been more urgently needed than it is today! With this calling in mind, the ministry, Dr. James Dobson's Family Talk, was born.
As a directing Board, we are in full agreement with Dr. Dobson that the family is facing its watershed moment. America is experiencing a moral and spiritual crisis that threatens the very foundation of Western Civilization. The family is under attack as never before. Dr. Dobson's wisdom and insights are needed more now than ever before. The good news is that Family Talk is making a significant difference – standing firm on principles of Scripture and encouraging those who are fatigued, frustrated and fearful.
You might be among the many who have shared their personal testimony as to how Dr. Dobson has touched their lives. One appreciative lady writes,
"I've listened to you [Dr. Dobson] for years. Now, as a soon-to-be mom, I have discovered the importance and impact of my role as a wife and a mother. We want to raise our unborn son to be strong in integrity and with virtue. Your messages help me grow stronger as a wife and now as a mom. Thank you for all you do!"
Dr. Dobson and the staff at Family Talk are enthusiastic about sharing the help and hope that only Jesus Christ can offer. They are working hard to expand avenues of communication and to reach out creatively to families and to all who are in need. This ministry is committed to strengthening marriages, teaching better parenting, protecting the un-born, and promoting righteousness in the culture.
There are endless possibilities and opportunities to make the most of Dr. Dobson's experience and wisdom, and the team at Family Talk is exploring and developing many of these. At the same time, we must remember that this ministry began only two years ago, quite literally from scratch. Dr. James Dobson's Family Talk is not simply a spin-off from Focus. We are a totally separate ministry. Just over two years ago, we had no building from which to operate, no studio from which to broadcast, and no radio station partners or website. There was just a base team of dedicated ministry professionals who chose to leave their secure positions at Focus, a very small start-up budget, and Dr. Dobson, with his experience and his calling from God. To come this far, where lives have been changed and families have been solidified, is nothing short of a miracle. With faith and determination, we believe the miracles will continue.
You may be asking, "What can I do to help?" We thank you for recognizing that to accomplish great things this ministry needs great provision. In our work to get the ministry off the ground, we have found ourselves short on funding. We have wonderful friends who have offered to match every dollar we bring in with a dollar to meet the existing need. Your gift makes a big difference, and it will, in effect, have twice the impact to help us get on solid footing. As a partner in the cause, it is our responsibility to share with you this serious need. With your gift of $100 or more (a $200 ministry impact), Dr. Dobson is pleased to send you an autographed copy of Bringing Up Girls, Bringing Up Boys, Night Light for Couples, or When God Doesn't Make Sense.
If we are unable to receive the needed support, we may have to reduce some of our radio stations. The battle is raging, and now is not the time to reduce our outreach. The Board is deeply committed financially, and Dr. Dobson has never taken a salary from Family Talk. Please consider how you might be able to join us today in carrying on this ministry to families.
We are praying God's blessing on you. These are crucial days, and we are grateful for the ways you stand with us.
Serving in Christ's name,
| | |
| --- | --- |
| Ken Eldred, Treasurer | Shirley Dobson, Secretary |
| Jon Gibson | Rebecca Hagelin |
| Bob McEwen | Roy Stringfellow, M.D. |
P.S. Please go to the Family Talk website, drjamesdobson.org, to find a station, listen to the program online, or to get the podcast. There is also an app for "One Place," which is another convenient way to hear the broadcast. A key piece of this ministry is to provide a listening ear, which is the role of our caring Call Center concierges. And we want to provide helpful resources (books, broadcast CDs, articles, links, etc.), also available at our website.
---
This letter may be reproduced without change and in its entirety for non-commercial and non-political purposes without prior permission from Family Talk. Copyright © 2012 Family Talk. All Rights Reserved. International Copyright Secured. Printed in the U.S.A.